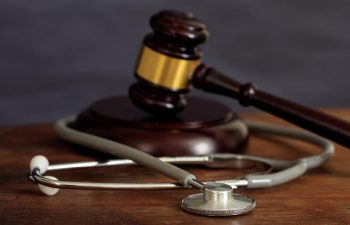 In a case presented by the American Dental Society of Anesthesiology, a 40 year old woman with severe dental caries and acute abscesses reported to the University of Pittsburgh School of Dental Medicine for full mouth extraction under deep sedation/general anesthesia. The surgical plan was extensive, as it planned to remove the 25 remaining teeth and 4 quadrants of alveoloplasty. The full case report may be found here, and it's important to understand that the risks versus benefits of anesthesia were evaluated for the patient. As such, she would undergo general anesthesia for the procedure.
During the surgery, the patient experienced several cardiovascular events, yet her vital signs remained normal. Even so, about 45 minutes after the volatile anesthetic was terminated, she did not meet the criteria for extubation. She failed to respond to verbal commands. Her response to stimuli was different on the left side versus the right side. After being transported for further testing, her diagnosis of ischemic left-sided stroke was confirmed.
While anesthesia is one of the greatest advancements of modern medicine, and the number of neurologic complications is few, they can be serious. When it comes to dental sedation and/or anesthesia for treatment, there's always a risk. From improper monitoring of a patient to administering the wrong dosage, an anoxic brain injury can occur if the patient is deprived of oxygen. Without question, when a patient sustains this type of injury, the proper care of the patient is immediately under question.
A patient with an anoxic brain injury may experience the following symptoms:
Trouble forming words
Short-term memory loss
Difficulty processing verbal stimuli
Trouble performing routine tasks
Lack of balance
Headaches
Weakness in arms or legs
Needless to say, when an individual suffers an anoxic brain injury, the recovery process is ongoing, with concentrated therapy to relearn movements and regain strength.
Contact Moriarty Injury Lawyer To See If You Have A Case
If you've experienced any of the above-mentioned symptoms following dental treatment under deep sedation/anesthesia, it's possible that you've suffered an anoxic brain injury. The team at Moriarty Injury Lawyer can help determine if you have a case. Call today!
Posted on behalf of Moriarty Injury Lawyer
865 Greenwood Ave.
Atlanta, GA, 30306
Phone: (404) 600-1794
Working Hours:
Monday-9:00 am - 5:00 pm *
Tuesday-9:00 am - 5:00 pm *
Wednesday-9:00 am - 5:00 pm *
Thursday-9:00 am - 5:00 pm *
Friday-9:00 am - 5:00 pm *