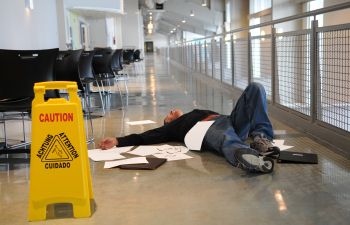 The holiday season brings increased travel and busyness as many visit relatives and friends for celebrations. Shoppers hustle from store to store in search of the perfect gift. But the holiday season also brings cold, wet weather conditions. When old man winter blows in a severe chill and temperatures drop below freezing, Atlanta area residents and travelers need to take a few precautions to avoid slip and fall injuries.
Increasing moisture means wet and slippery, and even frozen surfaces that become hazardous. Winter means shorter days with falling darkness to impede vision. Combine deteriorating conditions with the busyness of the holiday season, and the risks increase significantly for slip and fall accidents. To avoid making a holiday memory you would just as soon forget, make a few preparations.
Look Outside
Before heading out, ask Alexa, Siri or another digital friend (or just turn on the TV) for a weather forecast. Be sure to check local conditions as well as the forecast for your destination. Remember that freezing temperatures can occur suddenly, especially as darkness falls. It may be wise to schedule your plans for early in the day, when plenty of sun and daylight hours make it safer.
Look at Yourself
After checking the weather, dress accordingly for the outside conditions. Dressing in layers will keep you warmer, and be easier to shed for time indoors. Always wear a hat to retain more heat, wear gloves to protect hands from frozen surfaces and wear warm shoes or boots with an excellent tread for traction in wet or slippery weather.
Look Down
We can get so busy that we forget to recognize dangers that can be right in front of us. Prevent slip and fall injuries by avoiding wet, slippery surfaces or those with debris. Watch where you place your feet when exiting buildings, and when entering or exiting a vehicle. Place feet firmly and remain balanced at all times for safety. Use handrails when available.
Look Us Up
If you suffer a serious injury in a slip and fall accident in Atlanta, you may be eligible to recover compensation to cover the costs of medical treatment and other expenses. Premises liability laws stipulate that commercial and private property owners must take reasonable steps to protect the public and guests from harm. If negligence contributed to your slip and fall injury, the property owner could be liable. Call Attorney Daniel J. Moriarty at (404) 600-1794 to discuss your possible slip and fall injury claim.
Posted on behalf of Moriarty Injury Lawyer
865 Greenwood Ave.
Atlanta, GA, 30306
Phone: (404) 600-1794
Working Hours:
Monday-9:00 am - 5:00 pm *
Tuesday-9:00 am - 5:00 pm *
Wednesday-9:00 am - 5:00 pm *
Thursday-9:00 am - 5:00 pm *
Friday-9:00 am - 5:00 pm *