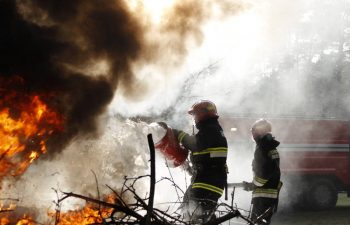 To any degree, burn injuries are painful, and can occur in a number of different scenarios. From automobile accidents to poorly manufactured products, failure to warn individuals of an impending risk, house fires or an unsafe work environment, questions circle around the idea of negligence. What's more, if negligence is a factor, how does one prove it?
If you've suffered a burn injury, and you suspect that another's careless behavior caused your injury, it is critical to speak to an experienced burn injury lawyer if you wish to pursue any type of legal action. Having dedicated his Atlanta-based law firm to defending those hurt or killed by the negligence of others, Attorney Daniel J. Moriarty is a name you can trust.
Given the delicate nature of burn injuries, they can be extensive and even disfiguring. Thus, it's common for individuals to require ongoing medical care and to be out of work for an extended amount of time. For some, there's significant psychological pain and distress that lingers for years after their injury. Needless to say, a severe burn injury can change the trajectory of one's life forever. Yet, if negligence is to blame, individuals deserve to be compensated for their hardship and pain. That's where Moriarty Injury Lawyer comes in. Our team investigates the details of your claim, and will explore the causes of your burn injury. If necessary, we will initiate a burn injury lawsuit to help you recover from your injuries, without financial tension from overwhelming medical bills and loss of wages.
Moriarty Injury Lawyer has represented many types of burn injury lawsuits, including apartment fires, chemical spill, electrical fire, explosions, fires caused by defective products, hotel fires, house fires, locked fire exits, office/retail fires, scalding water burns and thermal burns. Though there are no guarantees in the arena of personal injury law, you can be certain that we will work tirelessly on your behalf, so that you can focus on healing and recovery.
When You Need Legal Help, Call Moriarty Injury Lawyer
Perhaps you or someone you love has sustained a devastating burn injury, and you need to know your legal options. Maybe you were burned under suspicious circumstances, but you're not sure that you have a case. When you need legal help, call the team at Moriarty Injury Lawyer for qualified legal insight into your claim.
Posted on behalf of Moriarty Injury Lawyer
865 Greenwood Ave.
Atlanta, GA, 30306
Phone: (404) 600-1794
Working Hours:
Monday-9:00 am - 5:00 pm *
Tuesday-9:00 am - 5:00 pm *
Wednesday-9:00 am - 5:00 pm *
Thursday-9:00 am - 5:00 pm *
Friday-9:00 am - 5:00 pm *