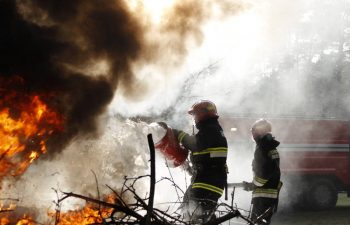 Severe burns are some of the most painful and dangerous injuries a person can endure. They can be extensive and subject to long-term care, including infections, reconstructive surgeries, scar repair, nerve damage repair and skin grafts for years. Complete recovery may be impossible. When severe burns are caused by neglect or fault in Atlanta, there may be compensation available for your medical costs, as well as physical, mental and emotional anguish, including PTSD, depression, anxiety, inability to work and more. When you have a severe burn injury, you need a lawyer who cares.
Have You Sustained a Burn Injury?
Fires happen for many reasons. Some are accidental, and others are preventable if only proper safety protocols are followed. Each person carries a level of responsibility for being safe around any potential fire. Sometimes, however, severe burns result from things that were negligent or unlawful. Poor wiring, car accidents, faulty consumer products or a commercial building fire are a few ways you or a loved one can be severely injured, and someone is liable for that suffering.
Not only are burns excruciating, but the treatment and recovery are also intense. Ongoing care can include nerve, tissue and bone damage repair and even reconstruction. It can also require ongoing medical treatments and rehabilitation for your injuries. Atlanta burn victims often need rehabilitative surgery, and then they need to learn to re-use their injured body parts anew to accommodate their loss. Repeated reconstructive body and facial surgeries can be excruciating, with extended time necessary for healing.
Experienced Burn Injury Personal Injury Lawyer
When someone suffers severe burns, the treatment and care can be intensely painful, ongoing for years and life-altering. You need recourse, and that means you need personal injury lawyer, Daniel J. Moriarty, to take on the responsible parties or entities that contributed to your pain and suffering. Daniel was a medical malpractice lawyer representing doctors and hospitals for years, so he knows exactly what to expect when bringing an injury suit for severe burns. His years of experience for the defense make him highly qualified when he holds big businesses or others accountable for their neglect in court.
Our team will investigate the fire and the injuries to determine where the cause and responsibility lies and then fight for your just settlement. If severe burns have injured you through no fault of your own, you may be eligible for compensation. Contact Daniel J. Moriarty, of Moriarty Injury Lawyer in Atlanta, GA today.
Posted on behalf of Moriarty Injury Lawyer
865 Greenwood Ave.
Atlanta, GA, 30306
Phone: (404) 600-1794
Working Hours:
Monday-9:00 am - 5:00 pm *
Tuesday-9:00 am - 5:00 pm *
Wednesday-9:00 am - 5:00 pm *
Thursday-9:00 am - 5:00 pm *
Friday-9:00 am - 5:00 pm *