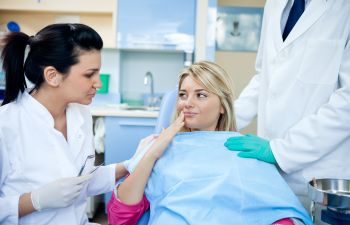 Regular dental check-ups happen at least two times a year and that does not include any extra dental work one could have. Dental care providers are required to use a professional standard of care when working in a patient's mouth. The medical standard of care is where your dentist must provide care at the same level a similarly educated dentist practicing in the same area would provide. Dentists undergo years of school and training to help the teeth and mouth of their patients. They have a legal duty to their patients to focus on what they are doing at all times and to treat them with compassion and care.
Occasionally mistakes can happen under the care of a dental provider and the treatment provided falls below the acceptable standard of care. Those mistakes due to negligence could result in injury, pain, and suffering to a patient which could lead to dental malpractice. Four factors must be met to prove dental malpractice. The four factors are duty under the medical standard of care, breach of that duty, causation, and damages.
Common Types of Dental Malpractice
Failure to find or diagnose periodontal diseases
Failure to examine a patient for dental disorders
Exceeding the scope of consent for treatment
Improper use of dental instruments
Improper administration of anesthesia
Improper or unnecessary treatment
Severe nerve damage to lips, jaw, tongue, or face
Severe oral infections
Expert Dental Malpractice Lawyer in Atlanta
If you suspect that you or a loved one is a victim of dental malpractice, you may be entitled to compensation as a result. Attorney Daniel J. Moriarty is an experienced dental malpractice lawyer that works hard for his clients.
Call Moriarty Injury Lawyer today to schedule your free consultation.
Posted on behalf of Moriarty Injury Lawyer
865 Greenwood Ave.
Atlanta, GA, 30306
Phone: (404) 600-1794
Working Hours:
Monday-9:00 am - 5:00 pm *
Tuesday-9:00 am - 5:00 pm *
Wednesday-9:00 am - 5:00 pm *
Thursday-9:00 am - 5:00 pm *
Friday-9:00 am - 5:00 pm *