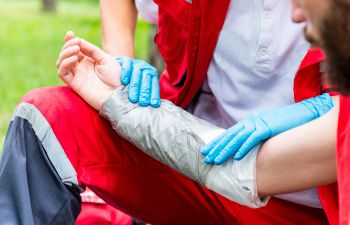 Owning a business or managing public property comes with certain responsibilities. Liability becomes an issue for many reasons, including any avoidable situation that could cause harm to invited visitors or guests.
As a patron of a business or a visitor to public premises, the expectation of safety is a right. Unsafe conditions are a matter of premises liability, which may leave responsible individuals or entities in legal jeopardy. If your injuries were caused by a trip, fall or resulted from a falling object, you could be entitled to compensation.
The Cost of Injuries
There are few injuries that will not result in some sort of cost, whether financial or psychological. Medical bills can mount up quickly, leaving you in serious debt. You may also face time out of work, which will result in loss of earnings. Additionally, many accident victims will suffer emotional trauma that can impact work and personal relationships.
Your injuries may become the subject of a premises liability lawsuit if it can be established that the property owner did not address unsafe conditions. For instance, low lighting in a parking lot can result in a trip, slip or fall. Other issues that may lead to injury include repair needs that have been ignored, faulty wiring, wet surfaces or unlabeled chemical containers.
Legally, assault on the premises of a business or public entity is both a criminal and civil matter. Responsible parties may have a responsibility to provide reasonable protections such as the provision of security guards or restricted access. If you are the victim of assault, seeking legal advice is recommended. You have a right to pursue compensation to cover your financial losses and the emotional impact suffered after an attack.
Moriarty Injury Lawyer
At Moriarty Injury Lawyer, we are a compassionate team of legal professionals with experience in premise liability. The circumstances that led to your accident may dictate whether you are entitled to compensation. We will provide guidance and help you build a strong and fair case for a positive outcome.
Call Moriarty Injury Lawyer for a free initial consultation to discuss your premise liability case today.
Posted on behalf of Moriarty Injury Lawyer
865 Greenwood Ave.
Atlanta, GA, 30306
Phone: (404) 600-1794
Working Hours:
Monday-9:00 am - 5:00 pm *
Tuesday-9:00 am - 5:00 pm *
Wednesday-9:00 am - 5:00 pm *
Thursday-9:00 am - 5:00 pm *
Friday-9:00 am - 5:00 pm *