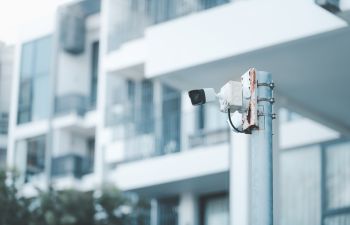 In many cases, owners or landlords are liable for the safety of visitors and tenants. If reasonable security precautions are not in place, criminals may take advantage. This can lead to individuals suffering harm on the premises.
Although security precautions are put in place to discourage criminal activity, they serve another purpose. Trips and falls are common in areas with poor lighting. Exposed electrical wiring can cause electrocution. Trash and other flammable materials also represent an avoidable risk.
Property owners should take reasonable actions to mitigate security and injury risks. Whether an individual is assaulted or has an accident on commercial premises, the owner or landlord may be liable for any harm or injuries.
Cameras
Cameras are a deterrent to criminals in many cases. Recordings are admissible as evidence. Those engaged in illegal activity usually prefer to operate under anonymity. Security guards or other staff can also monitor cameras and alert the police if necessary.
Secure Doors
When a property has secure doors, the risk of illegal entry is reduced. Visitors and tenants will feel safer on the premises. Owners and landlords should install secure doors when there is a known risk of criminal activity in the area.
Lighting
Lighting eliminates shadows, leaving criminals nowhere to hide. This is a simple and effective security measure to help protect visitors and tenants. Owners may face a negligent security lawsuit if adequate lighting is not installed in potentially unsafe areas.
Alarms
There are various types of alarms that can provide security in and around business premises. Door alarms will alert the owners or security to unauthorized access. Fire and carbon dioxide alarms can save lives. There are also alarms that individuals can use to call for help.
Negligent Security Claim
Determining whether an owner or landlord is responsible for the harm caused to you can be a complicated process. If you believe that you have a case, consulting with a negligent security lawyer is recommended.
Call Moriarty Injury Lawyer today to discuss the details of your assault or accident. We are a compassionate law firm, providing strong legal advice and representation in Atlanta, GA.
Posted on behalf of Moriarty Injury Lawyer
865 Greenwood Ave.
Atlanta, GA, 30306
Phone: (404) 600-1794
Working Hours:
Monday-9:00 am - 5:00 pm *
Tuesday-9:00 am - 5:00 pm *
Wednesday-9:00 am - 5:00 pm *
Thursday-9:00 am - 5:00 pm *
Friday-9:00 am - 5:00 pm *