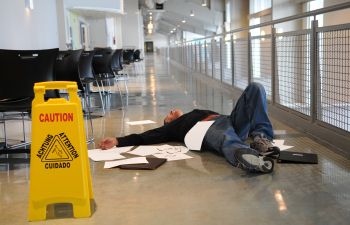 On any given day, thousands of individuals visit the properties of commercial businesses and organizations, trusting that they are safe. Yet, when dangerous conditions arise, customers and patrons could be seriously injured or even killed. As a result, individuals and families might be left with staggering medical bills and other costs. Perhaps most tragic, however, is when an injury or death could have been prevented. This highlights an area of law called premises liability. In the state of Georgia, premises liability law gives victims the opportunity to hold the owner or occupier of a property accountable when negligence is to blame for a personal injury or wrongful death.
Many conditions can make an establishment or premises unsafe. Some of these include poor maintenance, code violations, slippery floors, broken sidewalks, unsafe escalators/elevators, inadequate security and unmarked hazards.
Specifically, Georgia statute O.C.G.A. 51-3-1 states that "an owner or occupier of land, by express or implied invitation, induces or leads others to come upon his premises for any lawful purpose, he is liable in damages to such persons for injuries caused by his failure to exercise ordinary care in keeping the premises and approaches safe."
This obligation especially applies to those that have been invited onto a property or premises, as mentioned above. A few examples include individuals attending a concert or sporting event, patients at a medical clinic, students at a school, passengers at an airport or shoppers at a mall. Moreover, providing "reasonable care" also extends to areas surrounding a property such as parking lots, driveways and sidewalks. Without question, the focus of premises liability covers many different scenarios in a variety of settings.
Call Moriarty Injury Lawyer Today!
At Moriarty Injury Lawyer, we begin by looking at what could have been done to prevent harm to our client. We consider the costs of their injuries and how the event has impacted their lives. When applicable, we work tirelessly to help our clients with a premise liability lawsuit. Our firm has handled cases related to apartment complex gates, security guards, apartment shootings, defective wiring, inadequate lighting and unsafe neighborhoods.
If you believe that you have a potential premises liability claim, call Moriarty Injury Lawyer in Atlanta today for a free consultation to discuss your claim.
Posted on behalf of Moriarty Injury Lawyer
865 Greenwood Ave.
Atlanta, GA, 30306
Phone: (404) 600-1794
Working Hours:
Monday-9:00 am - 5:00 pm *
Tuesday-9:00 am - 5:00 pm *
Wednesday-9:00 am - 5:00 pm *
Thursday-9:00 am - 5:00 pm *
Friday-9:00 am - 5:00 pm *