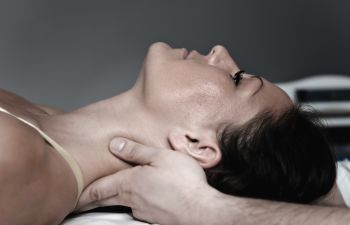 A chiropractic adjustment may relieve back or neck pain as well as headaches, shoulder pain and more caused by injuries, illness or stress. Chiropractors work to help your body function better by finding a more natural alignment. However, just as with any other medical treatment, risks are involved. This is especially true if your chiropractor is more forceful than necessary or doesn't get you the proper medical treatment if they suspect you may be suffering a stroke after an adjustment.
The Risk of Stroke
Many patients seek chiropractic care each year for neck and back pain without any adverse reactions. Thankfully, suffering a stroke within the days or weeks following a chiropractic adjustment is rare. However, the American Heart Association (AHA) does recognize that there is a risk of stroke and that those with cardiovascular disease are at higher risk.
Cervical Artery Dissection
The cause of the stroke isn't the adjustment itself but damage to the cervical artery during the sudden, thrusting movement. This tear in the artery doesn't occur in all adjustments, but if it does, it can lead to a blood clot as your body responds to stop the bleeding. Then, that blood clot may be released and travel to the brain, causing a stroke.
Other Possible Causes
While studies have shown a distinct relationship between those experiencing strokes and having visited the chiropractor shortly before, it's important to know that this is not the only known cause of cervical artery dissection. It could also happen after a car accident or a sports injury. There's documentation of it happening spontaneously as well.
Duty to Seek Urgent Care
Your chiropractor must get you immediate medical attention if they know or even suspect that you are suffering a stroke following an adjustment. They are aware of the signs and should not only notice them but put their patient first and ensure they get the proper treatment as soon as possible.
If your chiropractor was negligent in their care, a malpractice claim might be able to help cover medical costs, lost wages and other financial burdens resulting from stroke. If you think your stroke is related to chiropractic care, call the Moriarty Injury Lawyers today to schedule a free consultation.
Posted on behalf of Moriarty Injury Lawyer
865 Greenwood Ave.
Atlanta, GA, 30306
Phone: (404) 600-1794
Working Hours:
Monday-9:00 am - 5:00 pm *
Tuesday-9:00 am - 5:00 pm *
Wednesday-9:00 am - 5:00 pm *
Thursday-9:00 am - 5:00 pm *
Friday-9:00 am - 5:00 pm *