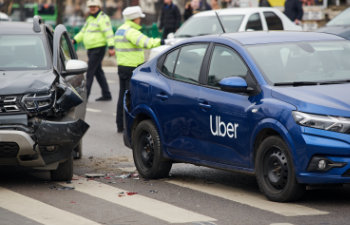 Most people have used rideshare – or at least heard of the practice. Uber and Lyft are prominent companies in the industry, enabling customers to access independent contractors. These drivers use their own vehicles to provide a service that is similar to using a taxi.
However, there are several notable differences between a taxi and an independent contractor. A rideshare driver carries insurance that is consistent with the type of service that is being provided. Many injuries are covered under third-party coverage and other terms in the driver's policy.
If you book a ride through a company like Uber, they are not liable for injuries if the driver is an independent contractor. To protect your best interests, consulting with a rideshare lawyer is recommended. While insurance can cover the cost of your injuries, recouping all your losses is not guaranteed.
Rideshare Pedestrian Accident
Due to the sheer volume of rideshare contractors on Atlanta roads, accidents are not uncommon. When a contractor causes an accident involving one or more pedestrians, those individuals may suffer injuries. Hiring a rideshare lawyer is often the first step in the legal fight for compensation.
Involvement in a collision is not the only accident which may lead to legal action. Any negligent actions on the part of a rideshare contractor can result in a pedestrian suffering injury. An experienced Atlanta lawyer can help you determine whether you have a strong case.
Passengers Injured in Transit
As a passenger in a rideshare vehicle, you have a right to feel safe. The actions of an independent contractor may result in an accident, such as a collision with another vehicle. The at-fault driver may be liable for your injuries. Medical costs and loss of earnings can become financially crippling if you do not seek monetary compensation through a personal injury claim.
When you are involved in a collision with a rideshare contractor, seek legal advice. The at-fault driver could legally hold responsibility for any injuries suffered in the crash. At Moriarty Injury Lawyer, we have experience in cases involving rideshare contractors.
Call our Atlanta, Georgia offices today if you would like an initial consultation to discuss your rideshare accident.
Posted on behalf of Moriarty Injury Lawyer
865 Greenwood Ave.
Atlanta, GA, 30306
Phone: (404) 600-1794
Working Hours:
Monday-9:00 am - 5:00 pm *
Tuesday-9:00 am - 5:00 pm *
Wednesday-9:00 am - 5:00 pm *
Thursday-9:00 am - 5:00 pm *
Friday-9:00 am - 5:00 pm *