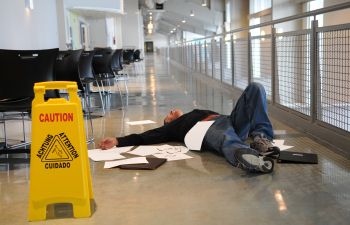 Wet and wintry weather brings a serious risk of slip and fall accidents. These types of incidents are often written off as clumsiness by the person who fell and are treated as trivial. The truth is, they cause countless injuries every year, some of which are fatal. If you are injured in a slip and fall accident, it is a good idea to have a lawyer review the incident, because your slip and fall may have been preventable.
Causes of Slip and Fall Accidents
A mix of slippery weather conditions coupled with building hazards can create a perfect scenario for slips and falls. While nobody can control the weather, there are steps that can be taken to prevent such accidents from happening.
High-traction flooring materials
This is especially important in entrance and exit points. Puddles on an already smooth floor can be like trying to walk across ice. Carpet mats placed in these locations should fit snugly against the floor, so they do not slide around or create a new tripping hazard.
Proper Accessibility
Handrails should be secure and have good grip. Steps should also be slip-resistant, regularly inspected and salted or sanded in a way that does not create additional hazards. Accessibility ramps should always be slip resistant, free of obstacles and professionally designed.
Poor Visibility
This is an overall safety issue. Proper lighting should be installed in all walking areas, including stairs and entrances. Burnt-out bulbs should be immediately replaced.
What You Can Do to Prevent Slips and Falls
When possible, avoid going out in bad weather, especially after dark. Ice can form quickly, and a layer of snow can hide the slippery danger underneath. Wearing winter footwear with good grip can help with slipping. While you need to be aware of your surroundings, make sure to look down so you can see hazards on the ground.
If you have suffered a serious injury from a slip and fall accident in Atlanta, you may be eligible for compensation. Contact Moriarty Injury Lawyer here or call (404) 600-1794 to discuss the possibility of a claim.
Posted on behalf of Moriarty Injury Lawyer
865 Greenwood Ave.
Atlanta, GA, 30306
Phone: (404) 600-1794
Working Hours:
Monday-9:00 am - 5:00 pm *
Tuesday-9:00 am - 5:00 pm *
Wednesday-9:00 am - 5:00 pm *
Thursday-9:00 am - 5:00 pm *
Friday-9:00 am - 5:00 pm *